The 12th edition of Privacy Camp will take place on 24 January 2024. For this edition, we invite you to explore the theme 'Revealing, Rethinking and Changing Systems'.
Be they AI systems, political systems, socio-technical systems, or any other system, one can blame them, try to understand them, fight them or perhaps reshape them.
The 2024 Privacy Camp edition invites investigations into systems that shape the field of privacy and digital rights. We encourage looking into different understandings of what counts as a system, into different types of systems (structural, political, institutional, socio-technical) and the various logics underwriting them, that have enabled the existence of many inequalities and injustices today. We also invite discussions and propositions about what systemic and transformative change can look like.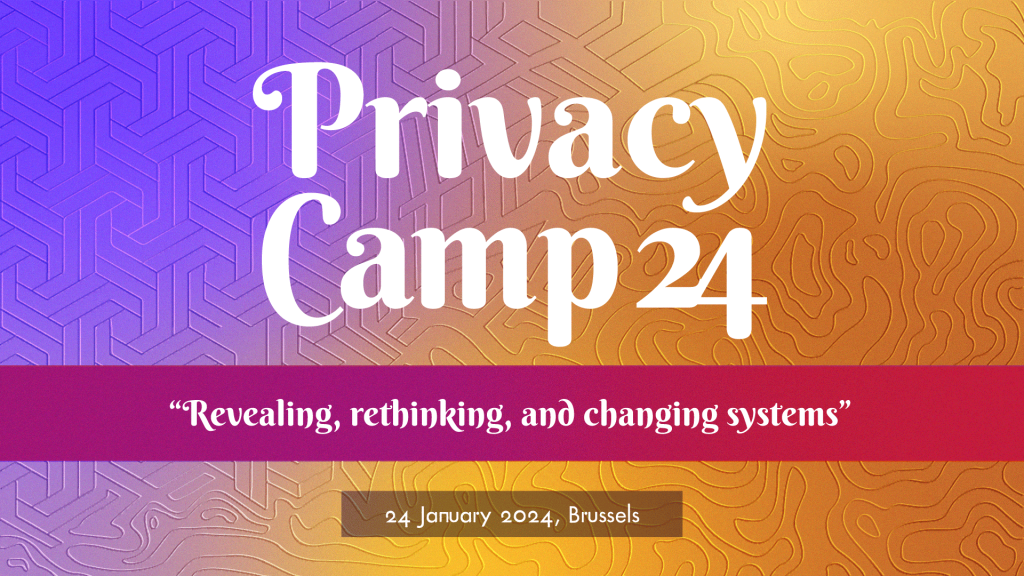 Change is in the air – maybe.
2024 marks the year of European elections and thus that of new Members in the European Parliament, and new European Commission taking the lead of the European Union (EU)'s executive powers.
We invite explorations to ways of imagining and thinking about transformative change in the context of 2024 as an electoral year, but also beyond 2024 and the realm of elections.
As surveillance has crept into many sectors of our lives, and privacy and data protection become transversal topics in many current debates, we ask:
How do old and new systems interact?
What systems and logics constitute existing digital infrastructures and technologies?
How can new systems be re-imagined and re-thought, and by whom?
Which systems remain invisible and under-discussed, and who benefits from these invisibilities?
How do we counter systemic inequalities, injustices through an intersectional lens (race, class, gender, caste, disability, and so forth) ?
Hence, we look forward to welcoming proposals that critically unpack the systems underpinning technology, law and society.
On one hand, this may include proposals that explore the role of digital rights in relation to social, racial, climate and economic justice movements; extractive and exploitative labour practices in the use and development of technology; techno-solutionism in climate/environmental debates; surveillance and carceral technologies in law enforcement and border control; the creation and maintenance of public infrastructures, as well as elections integrity.
One the other hand, we also encourage critical conversations around specific current and upcoming rules (e.g. concerning AI for predictive policing, generative AI, common data spaces such as the European Health Data Space, etc.), as well as data protection and GDPR enforcement, or around the efficiency of the systems enforcing EU and national law.
We seek proposals that explore new frames with which we can open up multiple sites of struggle, and in turn, the possibility of building solidarity across those sites, and work towards systemic and structural change.
Submission guidelines:
Indicate a clear objective for your session, i.e. what would be a good outcome for you?
Include a list of a maximum of 4 speakers that could participate in your panel. Ensure you cover academia, civil society and decision–makers' perspectives. Let us know which speaker(s) has/have already confirmed participation, at least in principle.
Make it as interactive as possible and encourage audience participation
Support diversity of voices among panelists and strive for multiple perspectives.
Note that the average panel length is 50 minutes.
To submit a proposal, please fill in this form by 29 October 2023, 23:59 CEST (deadline extended).
In 2024, Privacy Camp's Content Committee comprises of Andreea Belu (EDRi), Gloria González Fuster (LSTS, VUB), Rocco Bellanova (LSTS, VUB) and Jill Toh (UvA-IViR, and Racism and Technology Center).
The Privacy Camp Content Committee will review submissions and will notify you about the outcome of the selection procedure before 10 November 2023. Please note that we might suggest combining panel proposals if they are similar or complement each other.
About Privacy Camp
Privacy Camp is organised by European Digital Rights (EDRi), in collaboration with its partners the Research Group on Law, Science, Technology & Society (LSTS) at Vrije Universiteit Brussel (VUB), Privacy Salon vzw , the Institute for European Studies (IEE) at Université Saint-Louis – Bruxelles, the Institute of Information Law (IViR) at University of Amsterdam and the Racism and Technology Center.
Privacy Camp 2024 will take place on Wednesday, 24 January 2024 in a hybrid format (in Brussels, with online broadcast). Participation is free and registrations will open in December 2023.
For inquiries about the programme please contact Andreea Belu at andreea.belu(at)edri(dot)org.