The 11th edition of Privacy Camp invites to explore the criticality of our digital worlds.
Invoking critical times often sounds like a rhetorical trick. And yet, this year, we have witnessed the beginning of both an energy and security crisis, caused by the Russian invasion of Ukraine. In the meantime, the world is still dealing with a major health crisis, while increasingly acknowledging the urgency of the climate crisis. In fact, crises are situations where the relations in which we are entangled change, so that understanding and making an impact on how these relations change, and in favor of whom, becomes crucial.
Hence, these are some of the questions we want to ask. How do digital technologies feed into and foster the multiple crises we inhabit? What do we need to consider when approaching the digital as a critical resource that we should nurture, so to promote and protect rights and freedoms?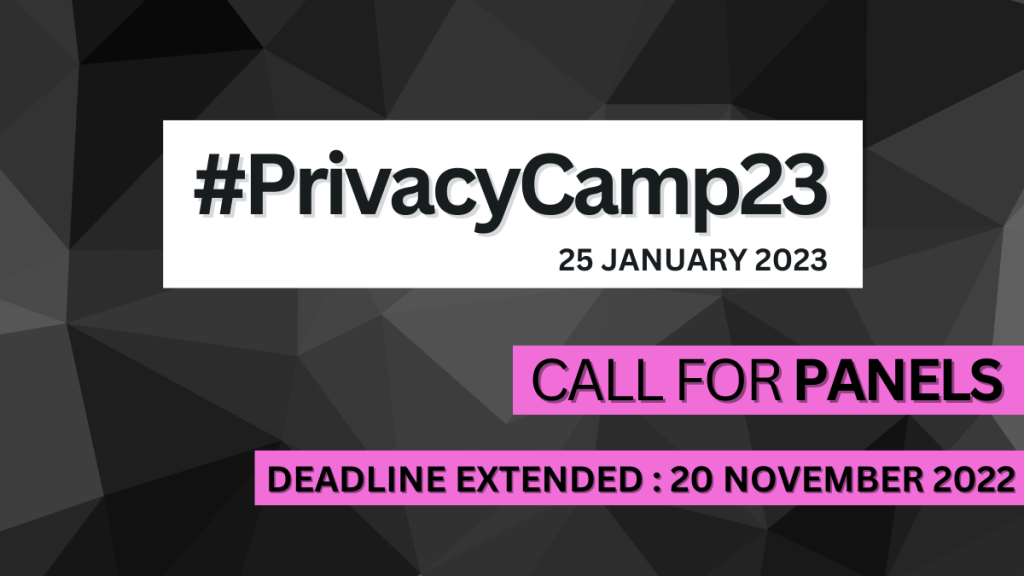 Our call for panels aims at fostering a conversation in which the criticality of digital technologies can be read in two ways (following the Oxford English Dictionary). On the one hand, the  critical as a situation having the potential to become disastrous. On the other hand, the critical as having a decisive or crucial importance in the success, failure, or existence of something. For instance, the critical nature of digital infrastructures rests on the importance of these infrastructures in all aspects of our lives: from public health to education, labour and services, from politics to intimate relations. At the same time, digital infrastructures and technologies become critically important in times of crises. 
While not all critical infrastructure is digital, much of the digital infrastructure is becoming critical. For example, digital technologies can contribute to reinforcing geo-political tensions, because of extractivist approaches to rare raw materials mining and the reliance on external powers for critical infrastructure.
Our ability to deal with multiple crises as societies is also quite dependent on the way the digital public sphere functions and how EU regulation is enforced, including the General Data Protection Regulation (GDPR) and the Digital Services Act. Ongoing debates about what kind of security European societies and institutions want to pursue contribute to shifting European and national authorities' stance on what kinds of technologies law enforcement and migration control should rely on, and how these technologies should be governed. This is becoming particularly tangible in the approach to the regulation of border control technologies in the AI Act, increased powers and broader scope of the recent Europol's mandate, as well as to the regulation of Child Sexual Abuse Material (CSAM) in the CSA Regulation.
If we are concerned with the future of rights, democracies and the planet, we are to remain critical of how both rights and digital infrastructures are organised and controlled, what role should the private sector have, or how all things digital impact our environment in terms of energy and ecology. This requires a broader conversation involving perspectives and approaches focusing on various rights, be they individual and collective, traditional or new.
In 2023, the Privacy Camp invites you to participate in, and foster, a discussion about the critical state(s) of our a world in which the digital is, itself, critical. What does it mean to regulate digital technologies and infrastructures in times of crises? Specifically, we invite submissions that answer the following questions:
How do digital rights look like during times of crises?
What is the long-term impact of border control digital technologies implemented during times of crises?
How does the crisis logic boosts extractivist approaches with regard to data, natural resources and social justice?
What is the link between crisis politics and the rise of securitisation narratives in EU digital policy-making?
How do we avoid a techno-solutionist approach to solving crises?
How do we sustain legal standards and the rule of law principles, (Is the GDPR in the middle of an (enforcement) crisis, and how to save it?
Submission guidelines:
Indicate a clear objective for your session, i.e. what would be a good outcome for you?
Include a list of a maximum of 4 speakers that could participate in your panel. Ensure you cover academia, civil society and decision–makers' perspectives. Let us know which speaker(s) has/have already confirmed participation, at least in principle.
Make it as interactive as possible and encourage audience participation.
Support diversity of voices among panelists and strive for multiple perspectives.
Note that the average panel length is 50 minutes.
To submit a proposal, please fill in this form by 20 November 2022, 23:59 CEST. (Deadline extended)
We will review submissions and will notify you about the outcome of the selection procedure before 1 December 2022. Please note that we might suggest combining panel proposals if they are similar or complement each other.
About Privacy Camp
Privacy Camp is jointly organised by European Digital Rights (EDRi), the Research Group on Law, Science, Technology & Society (LSTS) at Vrije Universiteit Brussel (VUB), the Institute for European Studies at Université Saint-Louis – Bruxelles (IEE at USL-B), and Privacy Salon.
In 2023, Privacy Camp's Content Committee are: Andreea Belu (EDRi), Gloria González Fuster (LSTS, VUB) and Rocco Bellanova (LSTS, VUB)
Privacy Camp 2023 will take place on 25 January 2023 in a hybrid format (in Brussels with online broadcast). Participation is free and registrations will open in December 2022.
For inquiries about the programme and/or to support the event organisation as a volunteer, please contact Andreea Belu at andreea.belu(at)edri(dot)org.