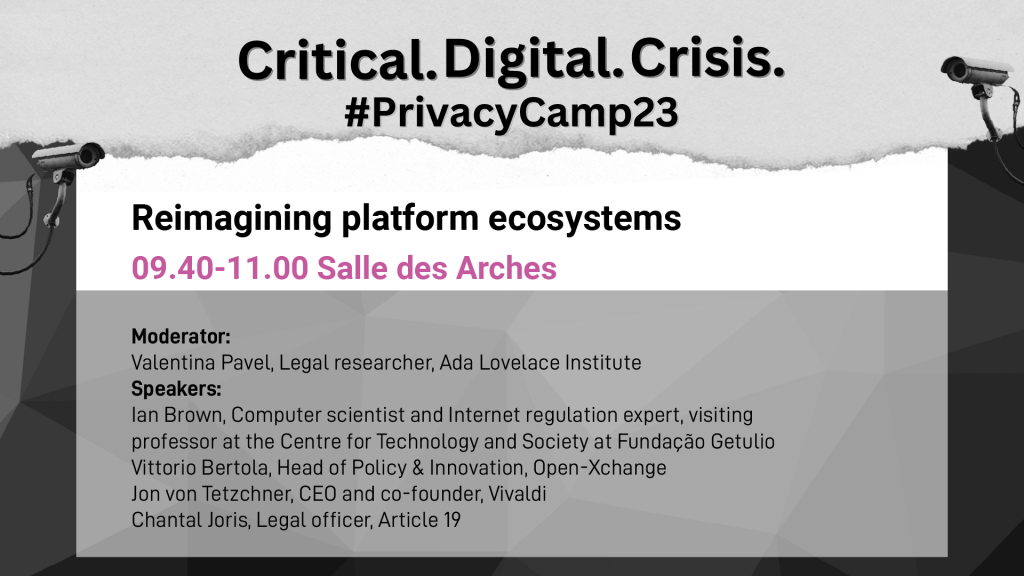 In 2020, the Facebook Files were dominating the news, revealing the company's damaging business practices. In 2021, Twitter's acquisition by Elon Musk is producing not only a major mediatic uproar, but also a massive exodus to alternative services by users who are concerned about the changes of business practices. These scandals were sandwiched by the adoption of the DMA and DSA, a package of regulation aimed at curbing some of the most harmful practices used by online platforms.
However, the DSA and DMA do not go far enough in terms of addressing deeply rooted challenges, such as supporting alternative business models that are not premised on data exploitation. The Ada Lovelace Institute's report on Rethinking Data and rebalancing power looks at four interventions that have the potential to transform the digital landscape. One of the interventions is opening up platform core functionalities through interoperability mandates.

This session is meant to reflect more critically on interoperability solutions, beyond current measures in the DMA and proposed Data Act. Critical reflection is necessary from several perspectives. First, in terms of opportunities to advance user rights (e.g. through enhanced data portability) and choice of service (e.g. choosing third party algorithms that replace the platform's news feed component to more accurately match the user's desired expectations, for example in terms of content discovery). Second, whether this regulatory solution has the potential of addressing challenges in digital ecosystems at a more fundamental level (e.g. challenging business models) and assessing whether this approach might further entrench the power of large platforms, for example by becoming indispensable infrastructure.
Moderator:
Valentina Pavel, Legal researcher, Ada Lovelace Institute
Speakers:
Ian Brown, Computer scientist and Internet regulation expert, visiting professor at the Centre for Technology and Society at Fundação Getulio
Vittorio Bertola, Head of Policy & Innovation, Open-Xchange
Jon von Tetzchner, CEO and co-founder, Vivaldi
Chantal Joris, Legal officer, ARTICLE 19